Team QVEE – Golding in it for Fun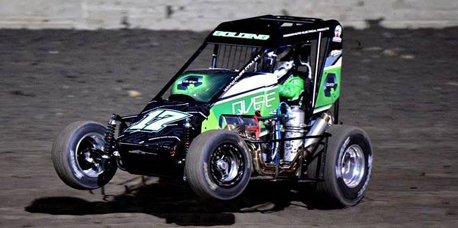 #17 Daniel Golding impressed many in his rookie year in Speedcars. After finding his feet early in the season, as he got more laps under his belt he began to surprise some of the more experienced veterans by being right on the pace towards the end of the year.
"For our first season it went well," said Dan. "Towards the end we started to get a handle on the set ups and became reasonably competitive and had a couple of good finishes."
During the off season the team (which includes brother Rob who also races Speedcars), has been busy rebuilding the cars (Dan will race a new Spike chassis with a Hawk engine), as well as purchasing a new transporter which Dan says will make life a lot easier, as loading and unloading the old transporter with the two cars was a lot of hard work!
Dan has also had surgery on the off season, which will hopefully better prepare him for racing this year.
"During the off season I had surgery on my hand" explains Dan. "I had a dislocated tendon and couldn't hang on to the car properly towards the end of races last year, so hopefully that will help us improve this season, theres no excuses now!"
The new season will see Dan and his QVEE, GME and Dasco Supply Group sponsored #17 compete in everything the west has to offer except for the Bunbury and Collie Pro Series rounds due to work commitments.
"Unfortunately I will miss those two WA rounds of the Pro Series," says Dan, "But the plus side of that is that for the first time I will be able to compete at the Figs race as normally that falls when I am away for work, so I am excited to be able to do that this year."
The team is also planning to do all the pro series rounds they can afford as well as the Australian Title.
"It should be a good year," Dan concludes. "I'm looking forward to it, in particular just getting back in the car and onto the track because six months off is a long time! If we can finish in the top ten of the feature race on a consistent basis that would be good, but one of my main goals is to win a heat race, I will be pretty happy if we can do that!"
Keep checking back on the WASDA Facebook page and website regularly as we step it up in the next week, releasing two drivers each day in the lead up to the grand opening at the Perth Motorplex on the 19th of October!
Release by Scott Beattie for DTN Media.